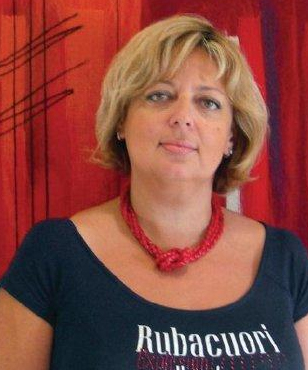 Viktoria Talaevsky Artist
.
Viktoria Talaevsky was born on August 14th 1965 in Kiev,Ukraine;
and immigrated to Israel with her family in 1990, settling in Jerusalem.
Viktoria was trained by many well known Russian artists and the
experience left an indelible mark and sparked what would later
become the core of her professional career as a well established artist.
In 1985 Viktoria graduated with honors from the Kiev Technical Academy
for Industrial Design. This is where she gained her formal training
and skills in painting with mediums such as oil and water colors.
She then worked as a product and package designer in a prominent
Ukrainian packaging company.
.
Although very successful in her filed Viktoria left the business world in
order to become an art instructor.Teaching art gave her the satisfaction
of giving back to the community what she had received from her instructors,
which is a love and appreciation for art and its creation. Teaching also
gave her the time to work on developing and perfecting her own crafts,which
included jewelry design and specifically her painting skills.The move to
Israel sparked an artistic rejuvenation. She became involved in the vibrant
Israeli art scene and in 1990 she joined the "Artnova Studio" in Jerusalem.
At "Artnova" she first experimented with the "Soft Art" methods and mediums
such as acrylic fibers, fabrics and strings in her creations. She has since
created many beautiful tapestries and colorful wall hangings which are
exhibited in galleries, art shows and exhibitions internationally
and throughout Israel.