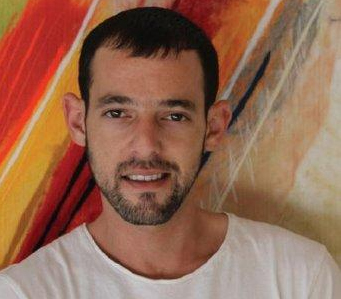 Shai Mandel Shaked Artist
Shai was born in Israel on 9th November 1984.The ongoing transition
process between dream and reality and the ability to express ideas
through drawing captured the little boy who began painting as a hobby.
Shai acquired his formal training at the art school in Jerusalem,
where he studied from 1998 to 2002.At the age of 18 he completed
his bachelor of arts. These studies included all aspects related to
art including; drawing, watercolor painting, composition, sculpture,
and photography. In 2005, Shai began working as an artist with
Artnova studio and began to express his ideas through drawings in
a new technique developed by Israeli artists, where the usual artist's
brush is replaced with needles, color has been replaced with colored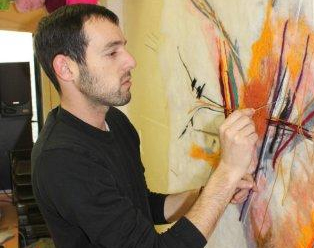 synthetic acrylic fiber and pieces of fabrics, and the pencil is
replaced by strings. Creating Soft Paintings with the Soft Art technique,
is now Shai's passion. Shai has worked closely with Artnova's home artist,
world renowned painter ; Johanan Herson who has inspired Shai and
contributed to his ability to express his ideas in new directions.
Shai's works embody color, movement and optimism and express his
constant search for the connection between his varied interests.
Changes in the design world and the transition to clean minimalist
lines as well as emphasis on matching the design items to their
decorated spaces in which they "speak" in the same language, brought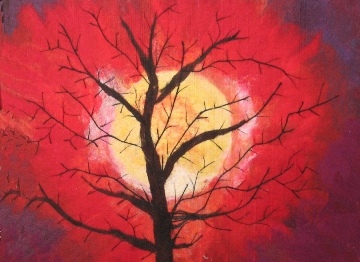 .
Shai to the realization of a new direction in which his works embody
these principles and are designed for the space and environment in
which they are intended to be installed. While continuing with his art,
Shai decided to expand into the realm of interior design and began
studying at the College of Management in Jerusalem in 2010.
Shai's works are shown in Artnova's galleries in Jaffa Jerusalem
and Caesarea, and can also be seen at the "Earth Art"
design exhibition held annually in Tel Aviv.